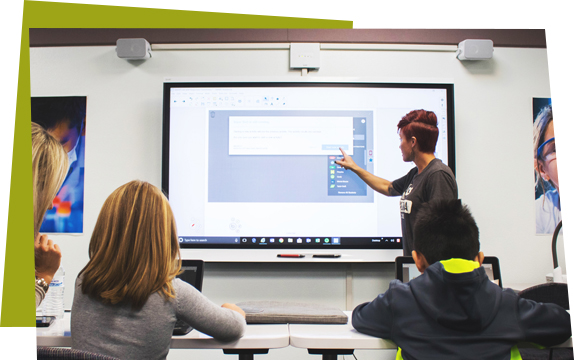 CCS TRAINS MORE THAN 5,000 PARTICIPANTS EACH YEAR THROUGHOUT THE UNITED STATES
Offering a variety of in-person and live remote training options, & consultations, our expert trainers are there for you.
The award-winning CCS Training Department provides live interactive training sessions from our headquarters in Scottsdale. The CCS Scottsdale Training Center also offers a variety of regularly scheduled classes to instruct and promote the use of interactive whiteboards & projectors, BYOD (bring your own device), audience response systems, tablets and more. Follow-up courses for aggressive product/systems training, and one-on-one consulting is also available for optimal implementation.
CCS Training Services offered:
In-person A/V Training
Live Remote Training
Education consultation
Full detailed training & consulting services listings below:
Training/Professional Development
What AV Products do you Train on?
We support all of the products we sell with training, from interactive flat panels, to audio systems, and video conferencing systems to name a few.
What kind of AV Training do you provide?
CCS is capable of both in person training as well as live remote training, we even offer the ability to have training videos recorded and edited for your business or school's purpose.
Can you create "Leave-Behind" Documents?
CCS can provide step-by step instructions on how to use your AV devices and systems.
Need a quote? Want to schedule an A/V consultation? Please use the form below and specify your inquiry.