Is it time to upgrade your business projector? No matter how experienced you are in buying projectors, technological advances can be challenging to keep up with. We can help guide you through the process of finding the best projector for office use. We understand that as business owners, managing an office budget and keeping employees motivated can be time-consuming. We've provided a business projector purchasing guide to make the purchasing process go smoothly. 
CCS Southwest's Recommendations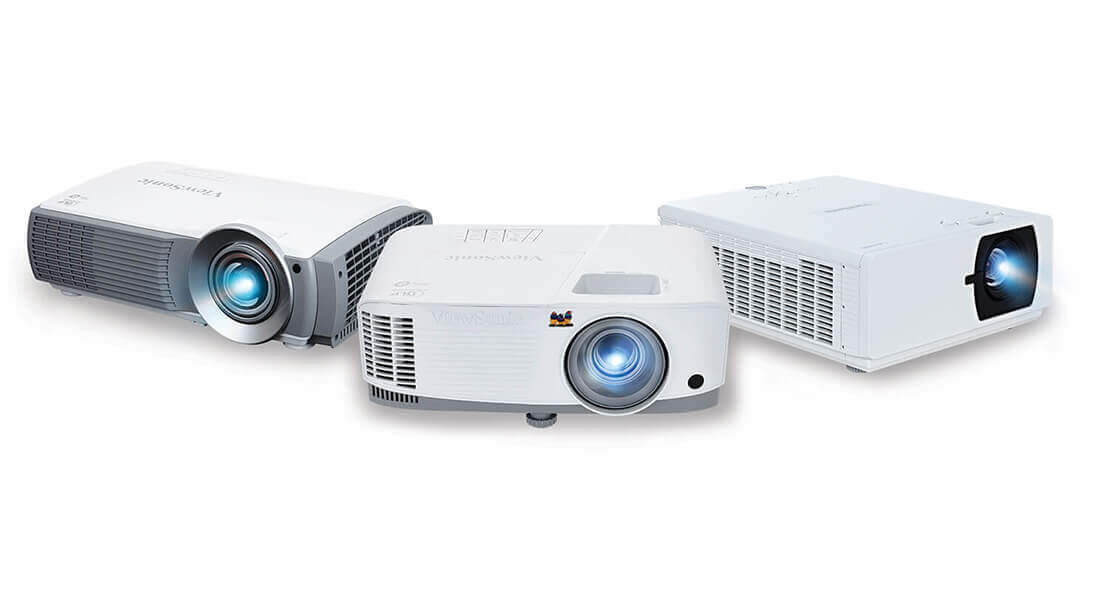 Before we begin, we do have recommendations for certain brands and we have our favorites when it comes to the best projector for office use. If you are in the market for a business projector, we recommend NEC and Epson as our top business projector manufacturers. Why? Here are a few good reasons to take a look at the NEC and Epson projectors and add them to your office wish list: 
EPSON

– A popular choice and #1 selling brand, EPSON offers a business projector with unrivaled image quality with a low cost of ownership and excellent service. With EPSON, you have options. From the Brightlink Interactive Laser Display Series to the Powerlite Wireless Projector, you'll enjoy brilliant widescreen images and virtually maintenance-free ownership. With exceptional resolution and lamp life that lasts 10,000 hours, this is a purchase you will never regret. 

NEC

– You'd be hard-pressed to find another brand that offers the same level of comprehensive and solutions-focused products that NEC does. NEC Display Solutions portfolio provides options for a variety of markets with the personal touch of a small business and the extensive reach of a global brand. The portable and lightweight NEC ME and MC Series Projector offers flexibility and learning enhancements for a low cost. With extended lamp light features, the cost of ownership is substantially lower due to fewer lamp and filter changes. 

OPTOMA

–

 

Optoma offers the right projectors to meet every budget. Easy-to-install solutions, interactivity for collaboration, along with a variety of connectivity options make Optoma projectors a smart choice for any projection need. Optoma's range of business projectors make it easy to fit your unique space and requirements.

VIEWSONIC – Bring presentations to life for an interactive meeting experience with ViewSonic projection solutions. The latest generation of solid-state LED and laser-based projectors provide for amazing colors and light source life up to 30,000+ hours. ViewSonic's full line of solid-state solutions include ultra-portable projectors for high- brightness projectors for any conference rooms and boardrooms.
Tips for Buying the Best Business Projector
We gave you a brief synopsis into what a superior business projector looks like and should include. Now, we'll break down the best way to choose the best projector for your office. Consider these characteristics before making your next purchase: 
Room size –

The room size is directly connected to the projection brightness you'll need. If you are considering a projector for a room that holds around 10 people, you'll need to choose a projector between 3,000-3,499 lumens of brightness. Meeting rooms with 20 people will require 3,500-5,000 lumens of brightness to account for more people and bigger projection dimension requirements. For larger rooms, laser projectors are ideal since they provide maximum brightness and image clarity. Conference rooms and other meeting spaces with direct lighting, you'll want to add 1,000 lumens. The lens also plays a crucial role in image quality. Business Projectors with high-quality shorter throw distance offer exceptional big screen results and resolution. These lenses reduce shadowing and eliminate distracting blinding lighting. 

Installation requirements –

Before choosing a business projector, having a good idea of your mobility requirements is helpful. If you think you'll be moving the projector around or carrying it to client meetings, you'll need a projector with keystone correction capabilities that can make automatic image adjustments based on distance and size. Luckily CCS makes this step easy with our expert engineers who work closely with you and understanding your needs to create the best solution for your business.

Business requirements –

You'll want to consider your business needs for the projector and how you plan to use it. If you plan to connect smart devices as connection sources, you'll need a business projector with wireless transmission capability. For larger businesses, LAN technology capabilities and remote management should be included in your projector purchase. This will allow you to manage multiple projectors. 

Projection technology –

The majority of business projectors have 2 types of technology that include digital light processing or liquid crystal display. DLP is the most commonly used

business projector

technology and provides the most value. They are also the most portable and reliable of the two projectors. LCD projectors provide sharper images and superior image quality. 

Color processing technology –

Almost all projectors will have color performance capabilities. The best projector for office use will have consistent color performance in bright and dark spaces. They will also have expanded color range, superior color wheel design, automatic color adjustments, enhanced grayscale, minimized brightness fluctuations, and dynamic lamp control. 
Other considerations like resolution, source content, contrast ratio, brightness, connectivity options, and lamp life are all value-added features that you should consider when making a budget-friendly purchase. Business projectors with smart design features increase capabilities, reduce frustration, and increase efficiency. 
Advantages of a Business Projector 
There are many advantages to purchasing a business projector. The relatively low maintenance cost is especially attractive. Here are a few more advantages to consider: 
Cost

– We cannot mention this advantage enough! A business projector offers the best value when compared to the purchase of large LED displays. 

Image

– A business projector offers larger image sizes than a flat-screen. In fact, image sizes can go up to 300 inches diagonally compared to LED displays that have fixed screen size and the cost still remains lower. 

Viewing

– Projectors don't require the viewers to be directly in front of the image to see it. In contrast, LED displays do require the viewer to be seated directly in front of the screen to see the image. A business projector offers lower brightness and larger images, allowing the viewer to see clearly from all angles. 

Space

– You'll save space with a business projector since the screens are easily retracted and stored. 
Talk to an AV Expert Today
Interactive projectors can really enhance your meeting experiences. They have been shown to improve engagement and meeting outcomes. The interactive whiteboard is the best known of these technologies but interactive projectors can be used on any flat surface. This allows flexibility using interactive pens to write, draw, and annotate. Its low implementation cost makes this an attractive alternative. They are easily integrated into other interactive systems, which increases their cost-effectiveness. 
Take that next step in buying the best projector for office use with the help of our AV experts. We are ready when you are and can help you find the best solution for your business budget. With easy and flexible financing options, we can get your business projector installed in a timely manner. We work with Marlin Financing to provide equipment leasing and purchasing so you don't have to tap into your business capital. We've partnered with over 300,000 small businesses like yours to provide customized business solutions. Here are the advantages of financing with us: 
100% financing

Fast processing

Fixed monthly payments

Improved cash flow

Tax benefits

Flexible terms
We serve various markets including education, corporate, worship, government, hospitality, healthcare, and residential. As a trusted resource in the AV industry, our AV consultants have over 25 years of experience. Talk to an AV consultant today about your next business projector!